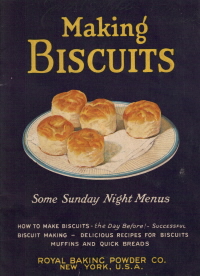 This vintage recipe booklet was published by Royal Baking Powder Co. in 1923 and is titled "Making Biscuits". There are recipes for baking powder biscuits, other kinds of biscuits, bread recipes, muffins and more.
Each section is available to review by clicking one of the title links below...you'll be able to browse through a complete re-typed format as well as images of all the pages.
The cookbook is 15 pages and has been formatted per section (so all baking powder biscuit recipes would be on one page, etc.).
This is the inside cover and page three of the 1923 recipe book "Making Biscuits" by Royal Baking Powder Co. The cover is counted as page one. To review the entire book, just visit the Making Biscuits: Royal Baking Powder category and click a page title to view that section. All images below are clickable […]
Here are pages 4, 5 and 6 of the 1923 recipe book "Making Biscuits" by Royal Baking Powder Co. To review the entire book, just visit the Making Biscuits: Royal Baking Powder category and click a page title to view that section. All images below are clickable if you'd like to see a larger copy. […]
Here are pages 7 and 8 of the 1923 recipe book "Making Biscuits" by Royal Baking Powder Co. To review the entire book, just visit the Making Biscuits: Royal Baking Powder category and click a page title to view that section. All images below are clickable if you'd like to see a larger copy. OTHER […]
This is page 9 of the 1923 recipe book "Making Biscuits" by Royal Baking Powder Co. To review the entire book, just visit the Making Biscuits: Royal Baking Powder category and click a page title to view that section. All images below are clickable if you'd like to see a larger copy. OUR FOUR BEST […]
Here are pages 10 and 11 of the 1923 recipe book "Making Biscuits" by Royal Baking Powder Co. To review the entire book, just visit the Making Biscuits: Royal Baking Powder category and click a page title to view that section. All images below are clickable if you'd like to see a larger copy. THE […]
Here are pages 12, 13 and 14 of the 1923 recipe book "Making Biscuits" by Royal Baking Powder Co. To review the entire book, just visit the Making Biscuits: Royal Baking Powder category and click a page title to view that section. All images below are clickable if you'd like to see a larger copy. […]
This is the inside cover of the back page of the 1923 recipe book "Making Biscuits" by Royal Baking Powder Co. There's also a scan of the back cover image at the bottom. To review the entire book, just visit the Making Biscuits: Royal Baking Powder category and click a page title to view that […]