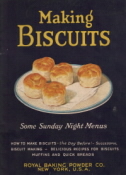 Here are pages 4, 5 and 6 of the 1923 recipe book "Making Biscuits" by Royal Baking Powder Co.
To review the entire book, just visit the Making Biscuits: Royal Baking Powder category and click a page title to view that section.
All images below are clickable if you'd like to see a larger copy.
What Is The Royal Master Recipe For Biscuits?
First it is a recipe endorsed by expert cooks for making delicious hot biscuits.
Second it may be used as a foundation recipe for the more than a dozen different biscuit delicacies suggested on the next pages.
Third you can keep the dough made from this recipe in the icebox or in some other cool place until you are ready to bake it. Biscuit dough made with Royal and kept in this way makes as wonderfully light and delicious biscuits as those baked immediately after mixing.
SEVEN GUIDES TO GOOD BISCUITS
Use Royal Baking Powder.
Use a good grade of bread flour.
Use level measurements.
For shortening use any good solid fat or cooking oil–butter is not necessary–oil simplifies the process, as it measures and mixes more easily.
Handle as lightly and as little as possible.
Bake in a "quick" or hot oven.
A steel fork makes mixing much easier.
10 Minutes to Make–10 Minutes to Bake!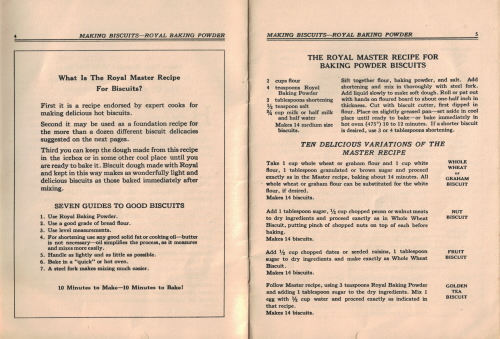 THE ROYAL MASTER RECIPE FOR BAKING POWDER BISCUITS
2 cups flour
4 teaspoons Royal Baking Powder
2 tablespoons shortening
1/2 teaspoon salt
3/4 cup milk or half milk and half water
Makes 14 medium size biscuits
Sift together flour, baking powder, and salt. Add shortening and mix in thoroughly with steel fork. Add liquid slowly to make soft dough. Roll or pat out with hands on floured board to about one-half inch in thickness. Cut with biscuit cutter, first dipped in flour. Place on slightly greased pan–set aside in cool place until ready to bake–or bake immediately in hot oven (475°) 10 to 12 minutes. If a shorter biscuit is desired, use 3 or 4 tablespoons shortening.
TEN DELICIOUS VARIATIONS OF THE MASER RECIPE
WHOLE WHEAT or GRAHAM BISCUIT
Take 1 cup whole wheat or graham flour and 1 cup white flour, 1 tablespoon granulated or brown sugar and proceed exactly as in the Master recipe, baking about 14 minutes. All whole wheat or graham flour can be substituted for the white flour, if desired. Makes 14 biscuits.
NUT BISCUIT
Add 1 tablespoon sugar, 1/2 cup chopped pecan or walnut meats to dry ingredients and proceed exactly as in Whole Wheat Biscuit, putting pinch of chopped nuts on top of each before baking. Makes 14 biscuits.
FRUIT BISCUIT
Add 1/2 cup chopped dates or seeded raisins, 1 tablespoon sugar to dry ingredients and make exactly as Whole Wheat Biscuit. Makes 14 biscuits.
GOLDEN TEA BISCUIT
Follow Master recipe, using 3 teaspoons Royal Baking Powder and adding 1 tablespoon sugar to the dry ingredients. Mix 1 egg with 1/2 cup water and proceed exactly as indicated in that recipe. Makes 14 biscuits.
LIGHTNING BISCUIT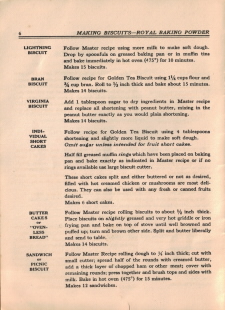 Follow Master recipe using more milk to make soft dough. Drop by spoonfuls on greased baking pan or in muffin tins and bake immediately in hot oven (475°) for 10 minutes. Makes 15 biscuits.
BRAN BISCUIT
Follow recipe for Golden Tea Biscuit using 1 1/4 cups flour and 3/4 cup bran. Roll to 1/3 inch thick and bake about 15 minutes. Makes 14 biscuits.
VIRGINIA BISCUIT
Add 1 tablespoon sugar to dry ingredients in Master recipe and replace all shortening with peanut butter, mixing in the peanut butter exactly as you would plain shortening. Makes 14 biscuits.
INDIVIDUAL SHORT CAKES
Follow recipe for Golden Tea Biscuit using 4 tablespoons shortening and slightly more liquid to make soft dough. Omit sugar unless intended for fruit short cakes.
Half fill greased muffin rings which have been placed on baking pan and bake exactly as indicated in Master recipe or if no rings available use large biscuit cutter.
These short cakes split and either buttered or not as desired, filled with hot creamed chicken or mushrooms are most delicious. They can also be used with any fresh or canned fruits desired. Makes 6 short cakes.
BUTTER CAKES or "OVENLESS BREAD"
Follow master recipe rolling biscuits to about 1/2 inch thick. Place biscuits on slightly greased and very hot griddle or iron frying pan and bake on top of stove until well browned and puffed up; turn and brown other side. Split and butter liberally and send to table. Makes 14 biscuits.
SANDWICH or PICNIC BISCUIT
Follow Master Recipe rolling dough to 1/4 inch thick; cut with small cutter; spread half of the rounds with creamed butter, add a thick layer of chopped ham or other meat; cover with remaining rounds; press together and brush tops and sides with milk. Bake in hot oven (475°) for 15 minutes. Makes 12 sandwiches.
More Recipes For You To Enjoy: