Here's a newspaper recipe clipping for kolach, date unknown. I've typed the recipe below along with a scanned copy.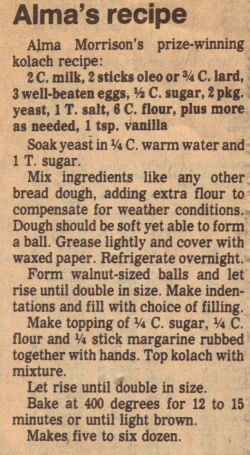 Alma's recipe
Alma Morrison's prize-winning kolach recipe:
2 C. milk
2 sticks oleo or 3/4 C. lard
3 well-beaten eggs
1/2 C. sugar
2 pkg. yeast
1 T. salt
6 C. flour, plus more as needed
1 tsp. vanilla
Soak yeast in 1/4 C. warm water and 1 T. sugar.
Mix ingredients like any other bread dough, adding extra flour to compensate for weather conditions. Dough should be soft yet able to form a ball. Grease lightly and cover with waxed paper. Refrigerate overnight.
Form walnut-sized balls and let rise until double in size. Make indentations and fill with choice of filling.
Make topping of 1/4 C. sugar, 1/4 C. flour and 1/4 stick margarine rubbed together with hands. Top kolach with mixture.
Let rise until double in size.
Bake at 400 degrees for 12 to 15 minutes or until light brown.
Makes five to six dozen.
More Recipes For You To Enjoy: