This is an old photocopy of a typed recipe that was found in a large collection, date unknown. I've typed it below along with a scanned copy.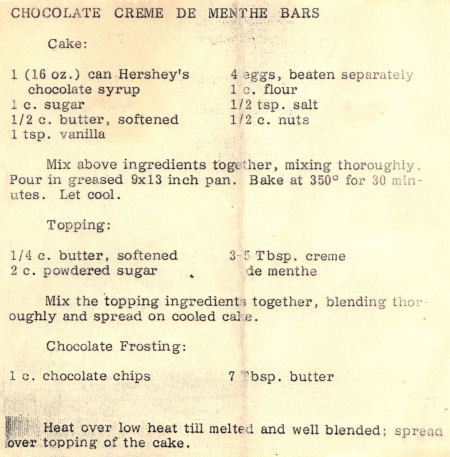 CHOCOLATE CREME DE MENTHE BARS
Cake:
1 (16 oz.) can Hershey's chocolate syrup
1 c. sugar
1/2 c. butter, softened
1 tsp. vanilla
4 eggs, beaten separately
1 c. flour
1/2 tsp. salt
1/2 c. nuts
Mix above ingredients together, mixing thoroughly. Pour in greased 9×13 inch pan. Bake at 350° for 30 minutes. Let cool.
Topping:
1/4 c. butter, softened
2 c. powdered sugar
3 – 5 Tbsp. creme de menthe
Mix the topping ingredients together, blending thoroughly and spread on cooled cake.
Chocolate Frosting:
1 c. chocolate chips
7 Tbsp. butter
Heat over low heat till melted and well blended; spread over topping of the cake.
More Recipes For You To Enjoy: