This recipe was written on a lined index card and found in a large collection, date unknown. I've typed it below along with a scanned copy.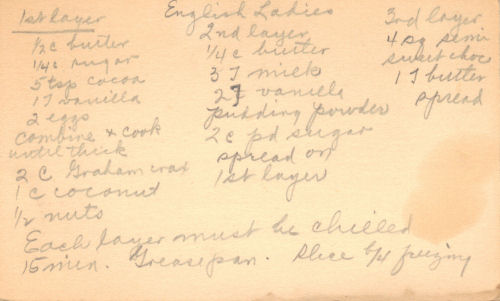 English Ladies
1st Layer:
1/2 c butter
1/4 c sugar
5 tsp cocoa
1 T vanilla
2 eggs
Combine & cook until thick.
2 c graham crax
1 c coconut
1/2 nuts
2nd Layer:
1/4 c butter
3 T milk
2 T vanilla pudding powder
2 c pd. sugar
Spread on 1st layer
3rd Layer:
4 sq. semi-sweet choc.
1 T butter
spread
Each layer must be chilled 15 min. Grease pan. Slice b/4 freezing.
More Recipes For You To Enjoy: