This recipe was written on a lined index card and found in a large collection, date unknown. I've typed it below along with a scanned copy (front side only).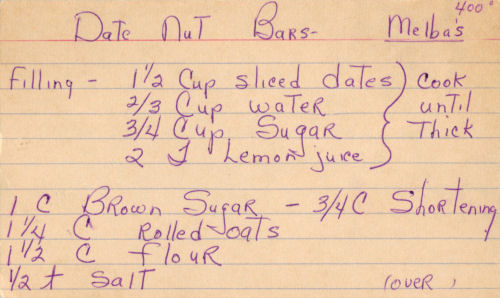 Melba's Date Nut Bars
400°
Filling – Cook until thick:
1 1/2 cup sliced dates
2/3 cup water
3/4 cup sugar
2 T lemon juice
1 C brown sugar
3/4 c shortening
1 1/4 c rolled oats
1 1/2 c flour
1/2 t salt
Combine b. sugar, oats, flour, salt. Cut in shortening until coarse crumbs.
Spread half mixture in shallow pan. Cover with filling.
Spread remaining mixture over filling.
Bake 400°
20 – 25 min.
More Recipes For You To Enjoy: