This recipe was clipped from a newspaper, date unknown. Recipe is typed below along with a scanned copy (the last part of the recipe directions are printed on another column so they're not included in the scanned copy).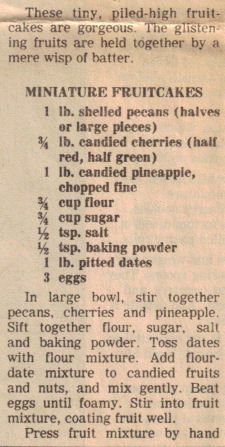 These tiny, piled-high fruitcakes are gorgeous. The glistening fruit are held together by a mere wisp of batter.
MINIATURE FRUITCAKES
1 lb. shelled pecans (halves or large pieces)
3/4 lb. candied cherries (half red, half green)
1 lb. candied pineapple, chopped fine
3/4 cup flour
3/4 cup sugar
1/2 tsp. salt
1/2 tsp. baking powder
1 lb. pitted dates
3 eggs
In large bowl, stir together pecans, cherries and pineapple. Sift together flour, sugar, salt and baking powder. Toss dates with flour mixture. Add flour-date mixture to candied fruits and nuts, and mix gently. Beat eggs until foamy. Stir into fruit mixture, coating fruit well.
Press fruit mixture by hand into miniature muffin tins lined with miniature paper baking cups, heaping mixture high. Bake at 350 degrees for 40 minutes. Store in cool place, in tightly covered containers. Makes about 10 dozen.
More Recipes For You To Enjoy: