This is a promo recipe clipping from Pillsbury that was found in a large collection, date unknown. It must be good since it's a Bake-Off Winning Recipe. I've typed it below along with a scanned copy.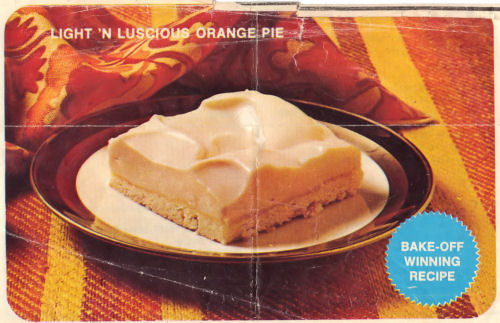 LIGHT 'N LUSCIOUS ORANGE PIE
A pudding mix flavored pat-in-pan crust filled with a creamy filling made this is a Bake-Off 21 Winner.
OVEN 350°
10 to 12 SERVINGS
1 1/4 cups PILLSBURY'S BEST ALL PURPOSE or UNBLEACHED FLOUR*
3 1/4 oz. package COCONUT CREAM PUDDING and PIE FILLING MIX, not instant
1/4 teaspoon SALT
1/2 cup SOLID SHORTENING
2 tablespoons BUTTER or MARGARINE, softened
1 EGG
COMBINE in large mixer bowl.
BLEND at low speed until moistened.
PRESS into ungreased 13 x 9-inch baking pan.
BAKE at 350° for 15 to 18 minutes until light golden brown. Cool while preparing filling.
2 cups (16 oz. or 1 pt.) DAIRY SOUR CREAM
1 1/3 cups (14 oz. can) SWEETENED CONDENSED MILK
1 (4 5/8 oz.) can ORANGE FLAVOR INSTANT BREAKFAST DRINK
COMBINE in small mixer bowl;
BEAT 1 minute.
POUR into baked crust.
*If using Pillsbury's Best Self-Rising Flour, omit salt.
HIGH ALTITUDE — 5200 Feet. No change.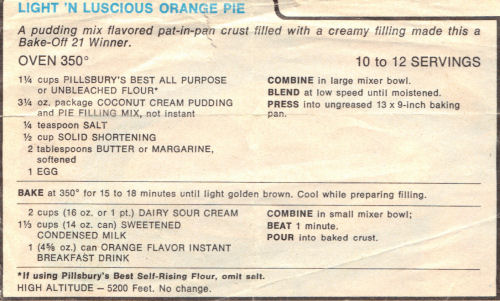 More Recipes For You To Enjoy: