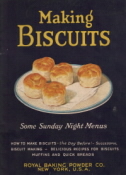 This is the inside cover of the back page of the 1923 recipe book "Making Biscuits" by Royal Baking Powder Co. There's also a scan of the back cover image at the bottom.
To review the entire book, just visit the Making Biscuits: Royal Baking Powder category and click a page title to view that section.
All images below are clickable if you'd like to see a larger copy.
SIMPLE AND DELICIOUS SUNDAY NIGHT SUPPERS
FOR COLD WEATHER
| | |
| --- | --- |
| Mushroom Patties | Crab Newburg–Hot Graham Gems |
| Hot Cheese Biscuits–Coffee | Orange Pekoe Tea |
| | |
| Poached Eggs with Bearnaise Sauce | Creamed Oysters in Patty Shells |
| Brown Bread Sandwiches | Peas and Butter |
| Tea or Coffee | Saratoga Chips |
| Preserved Strawberries | Hot Corn Meal Muffins |
| Hot Scones | Tea or Coffee |
| | |
| Molded Vegetable Salad | Chicken a la King |
| Cheese Soufflé–Hot Sally Lunn | Nut and Fruit Bread |
| Coffee | Coffee or Tea |
FOR HOT WEATHER
| | |
| --- | --- |
| Hot Biscuits–Honey | Fruit Salad with Mayonnaise |
| Ice Cold Milk | Hot Crumpets with Cottage Cheese |
| | Iced Coffee |
| | |
| Hot Sliced Tomatoes with Eggs on Toast | Sweetbreads au Gratin with Spinach in Ramekins |
| Hot Sour Milk Biscuits | Hot Butter Cakes |
| Orange Pekoe Tea | Iced Tea |
| Raspberries or Peaches with Cream | |
| | |
| Clam Bouillon | Individual Hot Chicken Short Cake |
| Lobster Salad | Avocado Salad with Roquefort Dressing |
| Graham Bread Sandwiches | Brown Bread Sandwiches |
| Hot Coffee | Iced Coffee |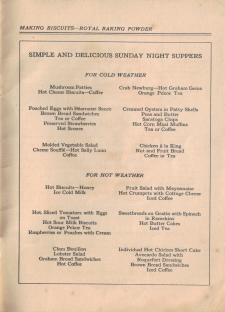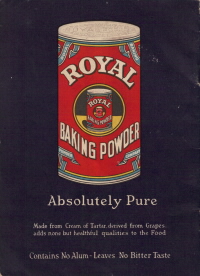 More Recipes For You To Enjoy: