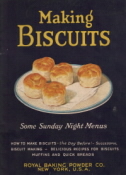 Here are pages 10 and 11 of the 1923 recipe book "Making Biscuits" by Royal Baking Powder Co.
To review the entire book, just visit the Making Biscuits: Royal Baking Powder category and click a page title to view that section.
All images below are clickable if you'd like to see a larger copy.
THE ROYAL MASTER RECIPE FOR MUFFINS
2 cups flour
3 teaspoons Royal Baking Powder
1 tablespoon sugar
1/2 teaspoon salt
2 eggs
1 cup milk
4 tablespoons melted shortening
Sift together flour, baking powder, sugar and salt; add eggs, milk, melted and cooled shortening to make a stiff batter; mix all together well. Half fill greased muffin tins and bake in hot oven (400°) 18 to 20 minutes. Makes 14 muffins.
TEN DELICIOUS VARIATIONS OF THE MASTER RECIPE
BLUEBERRY MUFFINS
Add 3 tablespoons sugar to 1 cup washed and well drained blueberries; sprinkle with flour and add to batter in Master recipe. Half fill small greased muffin rings or tins and bake in moderate oven (375°) for 30 minutes. Canned blueberries carefully drained can also be used. Makes 24 small muffins.
CORN MEAL MUFFINS
Follow Master recipe using 3/4 cup corn meal and 1 1/4 cups flour; add 1 tablespoon more sugar (or omit all sugar) and use 1 egg instead of 2. Makes 12 muffins.
CRUMB MUFFINS
Take 2 cups stale bread crumbs and 1 cup flour instead of 2; add crumbs to other dry ingredients and follow Master recipe. Makes 12 muffins.
GINGER MUFFINS
Sift 1/4 teaspoon soda, 1/2 teaspoon ginger with dry ingredients in Master recipe; use 1/2 cup molasses and 1/2 cup milk instead of 2 cups milk; 1 egg instead of 2 and 2 more tablespoons shortening, and bake in slower oven (375°). Serve hot with butter. Makes 16 muffins.
DATE OR FRUIT MUFFINS
Follow Master recipe using 1 egg instead of 2 and little less milk. Flour 2/3 cup chopped and pitted dates or seedless raisins and add to batter.
For a sweet fruit muffin add 1/4 cup more sugar.
For a delightful variety use 1/2 cup finely chopped candied cherries and citron instead of above fruit.
Makes 12 muffins.
POPPY MUFFINS
To the muffin batter of master recipe add 2 teaspoons poppy seeds and bake as directed. Makes 12 muffins.
GRAHAM GEMS
Follow directions for Master recipe but use half graham and half white flour, 1 egg, 4 teaspoons Royal Baking Powder and 2 tablespoons sugar. Makes 12 gems.
RASPBERRY DAINTIES
To muffin batter in Master recipe stir in 4 tablespoons raspberry jam. Strawberry or other jam can be used in same way. Makes 14 muffins.
CHOCOLATE MUFFINS
Add 2 more tablespoons sugar to Master recipe and stir 1 1/2 squares (1 1/2 oz.) grated chocolate in batter just before putting in tins. Makes 14 muffins.
COCOANUT MUFFINS
Follow Master recipe using 1 egg instead of 2; omit shortening and add 1/2 cup shredded cocoanut. Bake in small greased muffin tins. Makes 24 small muffins.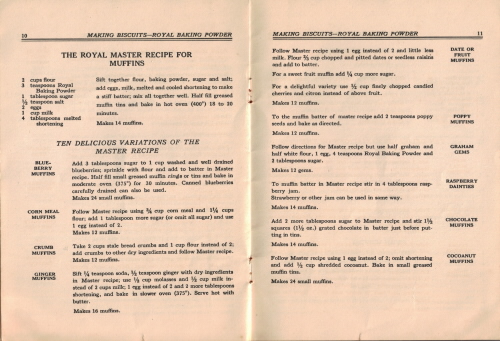 More Recipes For You To Enjoy: