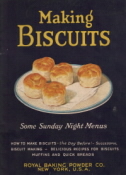 This is the inside cover and page three of the 1923 recipe book "Making Biscuits" by Royal Baking Powder Co. The cover is counted as page one.
To review the entire book, just visit the Making Biscuits: Royal Baking Powder category and click a page title to view that section.
All images below are clickable if you'd like to see a larger copy.
Making Biscuits
ASK any man if he'd like hot biscuits for Supper—!!
Copyright, 1923, by Royal Baking Powder Co.
Make Your Biscuits This New Way
In 10 Minutes You Can Have Delicious Hot Biscuits for Sunday Supper
Hot biscuits for Sunday night supper! Haven't you often wanted to delight your family and friends with such a treat but hesitated because you thought it would take up too much of your Sunday afternoon? Make them this new way and in only 10 minutes' time on Sunday you can have a plateful of biscuits as delicious and beautifully raised as any you ever saw!
Mix them Saturday–bake them Sunday
Take a few minutes Saturday morning to mix and cut a pan of Royal biscuits. Slip them into the ice-box or set them aside in a cool place. Sunday when supper time comes pop them into the oven and they are ready by the time the table is set!
Because two leavening agents are combined in Royal, your biscuits begin to rise as soon as the dough is mixed. Then a second rising takes place when the biscuits are put into the oven. This double acting quality makes it possible for you to bake Royal biscuits immediately or to keep the biscuit dough all ready mixed for baking several hours later or even the next day.
When you see how little time and trouble it takes to have hot biscuits for supper, you will want them often! With coffee, tea, chocolate, or milk; one main dish which may be meat, fish, or salad and hot biscuits you have a delicious meal for family and guests.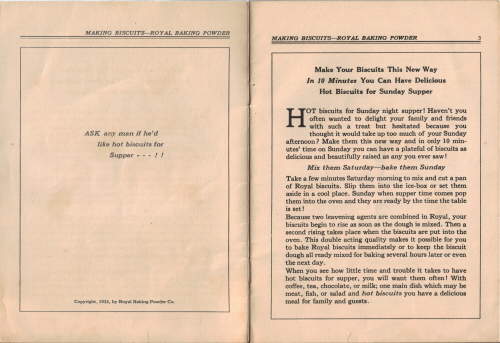 More Recipes For You To Enjoy: