Here's another vintage "Favorite Holiday Recipes" sheet from Carnation, this one's probably from the 1960's since it includes a promotion for a Carnation cook book from that time. Here's the first recipe (typed in full below) along with a scan. The cover of the recipe sheet/folder is at the bottom as well as links to two recipes that were in this sheet as well as the other previously archived one.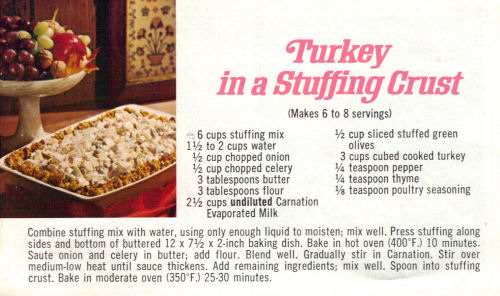 Turkey In A Stuffing Crust
(Makes 6 to 8 servings)
6 cups stuffing mix
1½ to 2 cups water
1/2 cup chopped onion
1/2 cup chopped celery
3 tablespoons butter
3 tablespoons flour
2 ½ cups undiluted Carnation Evaporated Milk
1/2 cup sliced stuffed green olives
3 cups cubed cooked turkey
1/4 teaspoon pepper
1/4 teaspoon thyme
1/8 teaspoon poultry seasoning
Combine stuffing mix with water, using only enough liquid to moisten; mix well. Press stuffing along sides and bottom of buttered 12 x 7½ x 2-inch baking dish. Bake in hot oven (400°F.) 10 minutes. Saute onion and celery in butter; add flour. Blend well. Gradually stir in Carnation. Stir over medium-low heat until sauce thickens. Add remaining ingredients; mix well. Spoon into stuffing crust. Bake in moderate oven (350°F.) 25-30 minutes.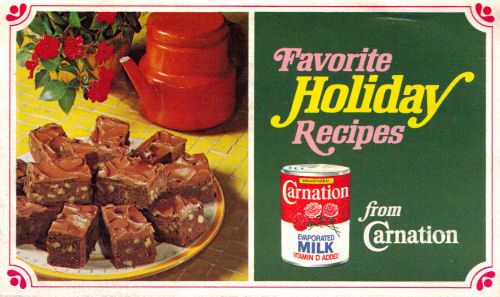 This sheet also included two recipes from another Carnation recipe sheet I've archived here, Carnation Pumpkin Pie and Five Minute Fudge.
More Recipes For You To Enjoy: