This recipe was included in a promo recipe sheet from Carnation Evaporated Milk titled "Favorite Holiday Recipes" (5 recipes in the sheet), date unknown. Here's the fifth recipe which is typed out below along with a scanned copy. The cover of the recipe sheet/folder is at the bottom.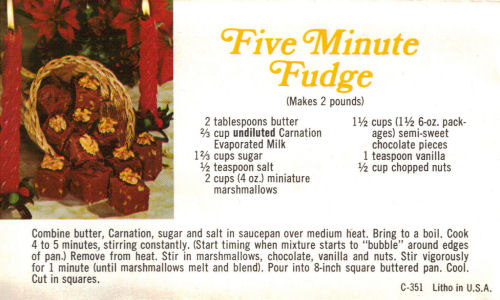 Five Minute Fudge
(Makes 2 pounds)
2 tablespoon butter
2/3 cup undiluted Carnation Evaporated Milk
1 2/3 cups sugar
1/2 teaspoon salt
2 cups (4 oz.) miniature marshmallows
1 1/2 cups (1½ 6-oz. packages) semi-sweet chocolate pieces
1 teaspoon vanilla
1/2 cup chopped nuts
Combine butter, Carnation, sugar and salt in saucepan over medium heat. Bring to a boil. Cook 4 to 5 minutes, stirring constantly. (Start timing when mixture starts to "bubble" around edges of pan.) Remove from heat. Stir in marshmallows, chocolate, vanilla and nuts. Stir vigorously for 1 minute (until marshmallows melt and blend). Pour into 8-inch square buttered pan. Cool. Cut in squares.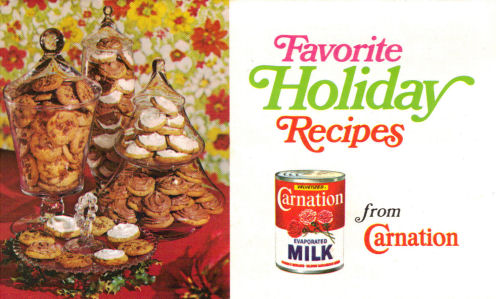 More Recipes For You To Enjoy: