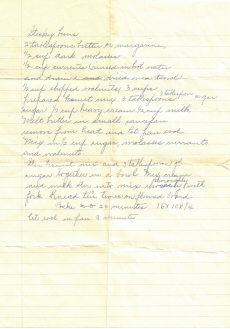 This is a handwritten recipe that was found on the other side of the Beat 'N Eat Frosting recipe posted yesterday. Date unknown, but I believe it to be vintage.
Recipe is typed as-is, formatting changed a bit for easier reading.
Sticky Buns
2 tablespoons butter or margarine
1/2 cup dark molasses
1/2 cup currents (rinsed in hot water and drained and dried on a towel)
1/2 cup chopped walnuts, 3 cups prepared biscuit mix, 3 tablespoons sugar, 1/2 cup heavy cream, 1/2 cup milk
Melt butter in small saucepan. Remve from heat and let pan cool.
Mix in 1/2 cup sugar, molasses, currants and walnuts.
Stir biscuit mix and 3 tablespoons of sugar together in a bowl. Mix cream and milk, stir into mix thoroughly with fork. Knead ten times on floured board.
Bake 20 minutes 16x10x1/4 let cool in pan 3 minutes.
More Recipes For You To Enjoy: