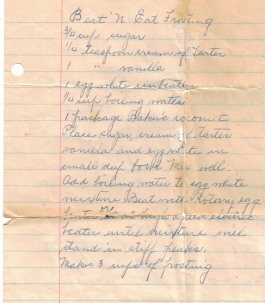 This recipe is handwritten on a well worn sheet of lined paper. Date unknown, but it does show some age due to yellowing. The sheet is a slightly heavier weight of lined paper. My guess is that it's at least a couple decades old.
Recipe is typed as-is, including slight typos, although the formatting was changed a bit for easier reading.
Beat 'N Eat Frosting
3/4 cups sugar
1/4 teaspoon Cream of Tarter
1 teaspoon Vanilla
1 egg white unbeaten
1/4 cup boil water
1 package Baker's coconut
Place sugar, cream of tarter, vanilla and egg white in small deep bowl. Mix well.
Add boiling water to egg white mixture. Beat with rotary egg beater or at high speed electric beater until mixture will stand in stiff peaks.
Makes 3 cups of frosting.
More Recipes For You To Enjoy: