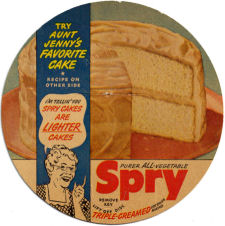 This is a Spry can recipe label (see another one here), date unknown. It's on cardboard stock and features the Aunt Jenny character Spry used for marketing. Recipes are typed below and you can click the pictures to view a larger size if you like.
The Spry Way to Make:
AUNT JENNY'S FAVORITE CAKE
(All measurements are level)
1/2 cup Spry
1/2 teaspoon salt
1 teaspoon vanilla
1 cup sugar
2 eggs, unbeaten
2 1/2 teaspoons baking powder
2 cups sifted flour
3/4 cup milk
Blend Spry, salt, and vanilla. Add sugar gradually and cream well. Add eggs, singly, beating well after each addition.
Sift baking powder with flour 3 times. Add flour to creamed mixture, alternately with milk, mixing after each addition until smooth.
Bake in two Spry-greased 8-inch layer pans in moderate oven (375°F.) 25 minutes.
Spread Quick Butterscotch Frosting between layers and on top and sides of cake.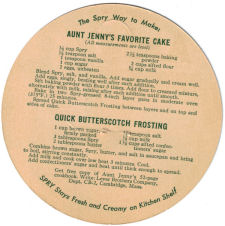 QUICK BUTTERSCOTCH FROSTING
1 cup brown sugar, firmly packed
3 tablespoons Spry
2 tablespoons butter
1/4 teaspoon salt
1/4 cup milk
1 1/2 cups sifted confectioners' sugar
Combine brown sugar, Spry, butter, and salt in saucepan and bring to boil, stirring constantly.
Add milk and cook over low heat 3 minutes. Cool.
Add confectioners' sugar and beat until thick enough to spread.
SPRY Stays Fresh and Creamy on Kitchen Shelf
More Recipes For You To Enjoy: