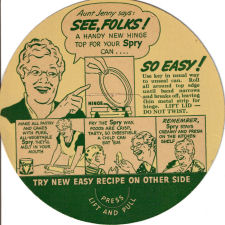 This is an old circular cardboard recipe label from Spry that was found tucked inside an old cookbook. These were included with cans of Spry and features the Aunt Jenny character on one side giving tips for how to use Spry.
Recipes are typed below, you can click the pictures to view a larger size.
The Spry Way to Make:
MAPLE NUT CAKE
(All measurements are level)
1/2 cup Spry
1/2 teaspoon salt
1 teaspoon vanilla
1/4 teaspoon maple extract
1 cup sugar
2 eggs, unbeaten
2 1/2 teaspoons baking powder
2 cups sifted flour
3/4 cup milk
1/2 cup nuts, sliced
BLEND Spry, salt, and flavorings. Add sugar gradually and cream well. Add eggs, singly, beating well after each addition. Sift baking powder with flour 3 times. Add flour to creamed mixture, alternately with milk, mixing after each addition until smooth. Bake in two 8-inch Spry-greased layer pans in moderate oven (375°F.) 25 minutes. Spread Maple Fudge Icing on bottom layer, sprinkle with sliced nuts and put on top layer. Spread icing on top and sides and cover sides with nuts.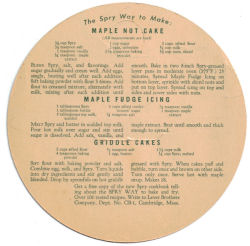 MAPLE FUDGE ICING
3 tablespoons Spry
1 tablespoon butter
5 tablespoons top milk, scalded
3 cups sifted confectioners' sugar
1/4 teaspoon salt
1/2 teaspoon vanilla
1 teaspoon maple extract
MELT Spry and butter in scalded top milk. Pour hot milk over sugar and stir until sugar is dissolved. Add salt, vanilla, and maple extract. Beat until smooth and thick enough to spread.
GRIDDLE CAKES
2 cups sifted flour
4 teaspoons baking powder
3/4 teaspoon salt
1 egg, beaten
1 1/2 cups milk
1/4 cup Spry, melted
SIFT flour with baking powder and salt. Combine egg, milk, and Spry. Turn liquids into dry ingredients and stir gently until blended. Drop by spoonfuls on hot griddle greased with Spry. When cakes puff and bubble, turn once and brown on other side. Turn only once. Serve hot with maple sirup. Makes 18.
More Recipes For You To Enjoy: