This is a clipping from a newspaper, undated: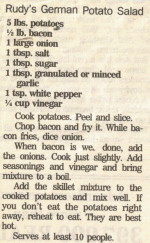 Rudy's German Potato Salad
5 lbs. potatoes
1/2 lb. bacon
1 large onion
1 tbsp. salt
1 tbsp. sugar
1 tbsp. granulated or minced garlic
1 tsp. white pepper
1/4 cup vinegar
Cook potatoes. Peel and slice.
Chop bacon and fry it. While bacon fries, dice onion.
When bacon is well done, add the onions. Cook just slightly. Add seasonings and vinegar and bring mixture to a boil.
Add the skillet mixture to the cooked potatoes and mix well. If you don't eat the potatoes right away, reheat to eat. They are best hot.
Serves at least 10 people.
More Recipes For You To Enjoy: