Here are three different recipe clippings for Kellogg's Rice Krispies squares, they're almost identical but I'll point out the differences below (underneath the recipe and scanned copies). You'll also find some vintage variations here: Vintage Rice Krispies Recipe Card & Clipping. I've typed out one of the recipes below (I chose the one that included microwave directions as well as the conventional method).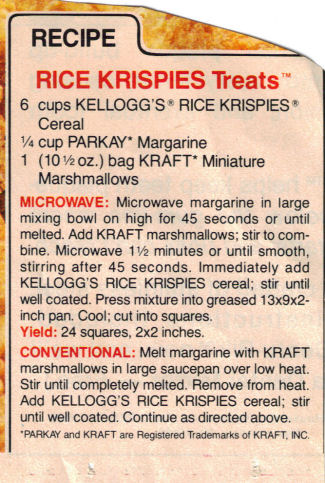 RECIPE
RICE KRISPIES Treats
6 cups KELLOGG'S RICE KRISPIES Cereal
1/4 cup PARKAY* Margarine
1 (10 1/2 oz.) bag KRAFT* Miniature Marshmallows
MICROWAVE: Microwave margarine in large mixing bowl on high for 45 seconds or until melted. Add KRAFT marshmallows; stir to combine. Microwave 1 1/2 minutes or until smooth, stirring after 45 seconds. Immediately add KELLOGG'S RICE KRISPIES cereal; stir until well coated. Press mixture into greased 13x9x2-inch pan. Cool; cut into squares.
Yield: 24 squares, 2×2 inches.
CONVENTIONAL: Melt margarine with KRAFT marshmallows in large saucepan over low heat. Stir until completely melted. Remove from heat. Add KELLOGG'S RICE KRISPIES cereal; stir until well coated. Continue as directed above.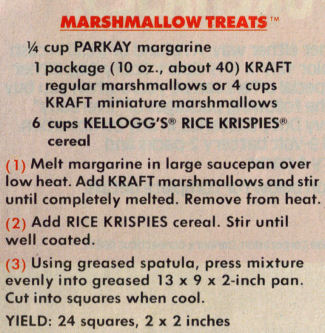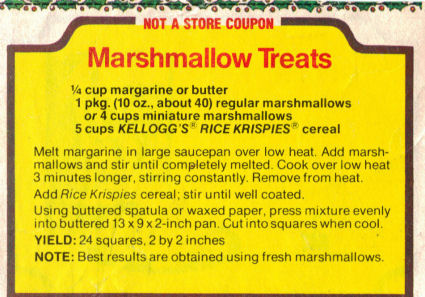 RecipeCurio Notes:
One clipping specifies that 1-10 oz. package of marshmallows is about 40 regular size or 4 cups KRAFT miniature marshmallows.
You'll notice that one recipe states to use only 5 cups of Kellogg's Rice Krispies cereal, this matches the vintage recipe from the 1950's so maybe it's an older recipe.
More Recipes For You To Enjoy: