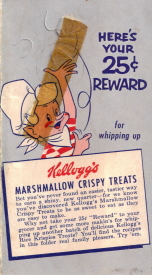 Here's an old Kellogg's Rice Krispies Marshmallow Treats recipe & rebate card combo from the 1950s (I believe). You can still see the yellowed piece of tape across the front and the outline of a circle underneath that held a quarter, it seems Kellogg's sent back an actual quarter! There are a handful of recipes in this sweet little card which included the Marshmallow Crispy Treats recipe and variations for it.
I've also included a recipe cutout from a Rice Krispies cereal box that has a recipe for Polka Dot Bars (date unknown for this one).
Here's Your 25¢ Reward for whipping up
Kellogg's Marshmallow Crispy Treats
Bet you've never found an easier, tastier way to earn a shiny, new quarter–for we know you've discovered Kellogg's Marshmallow Crispy Treats to be as sweet to eat as they are easy to make.
Why not take your 25¢ "Reward" to your grocer and get some more makin's for whipping up another batch of these delicious Kellogg's Rice Krispies Treats? You'll find the recipes in this folder real family pleasers. Try 'em.
KRISPY CHICKEN
One 1 1/2-3-pound frying chicken, cut up
3-4 cups KELLOGG'S RICE KRISPIES
1/2-2/3 cup butter or margarine, melted
1 teaspoon salt
1/2 teaspoon pepper
Wash chicken pieces and dry thoroughly.
Crush Rice Krispies into medium fine crumbs.
Combine melted butter with salt and pepper.
Dip chicken pieces in seasoned butter, then roll in Rice Krispies crumbs until well-coated. Place skin side up in shallow baking pan lined with aluminum foil; do not crowd pieces.
Bake in moderate oven (350°F.) about 1 hour or until tender. Do not cover pan or turn chicken while cooking.
YIELD: 4-5 servings.
RICE KRISPIES CRUNCHIES
1/2 cup soft butter or margarine
1/3 cup brown sugar
1/3 cup granulated sugar
1 egg
1 teaspoon vanilla flavoring
1 1/4 cups sifted flour
1/2 teaspoon baking soda
1/2 teaspoon salt
2 cups KELLOGG'S RICE KRISPIES
Blend butter and sugars. Add egg and vanilla; beat well.
Sift together flour, soda and salt; stir into first mixture together with Rice Krispies. Drop by teaspoonfuls onto greased baking sheets.
Bake in moderate oven (375°F.) about 8 minutes.
YIELD: 40 cookies about 1 1/2 inches in diameter.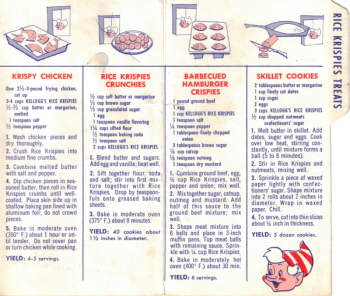 BARBECUED HAMBURGER CRISPIES
1 pound ground beef
1 egg
1 cup KELLOGG'S RICE KRISPIES
1 teaspoon salt
1/4 teaspoon pepper
1 tablespoon finely chopped onion
3 tablespoons brown sugar
1/4 cup catsup
1/8 teaspoon nutmeg
1 teaspoon dry mustard
Combine ground beef, egg, 3/4 cup Rice Krispies, salt, pepper and onion; mix well.
Mix together sugar, catsup, nutmeg and mustard. Add half of this sauce to the ground beef mixture; mix well.
Shape meat mixture into 6 balls and place in 3-inch muffin pans. Top meat balls with remaining sauce. Sprinkle with 1/4 cup Rice Krispies.
Bake in moderately hot oven (400°F.) about 30 min.
YIELD: 6 servings.
SKILLET COOKIES
2 tablespoons butter or margarine
1 cup finely cut dates
1 cup sugar
2 eggs
3 cups KELLOGG'S RICE KRISPIES
1/2 cup chopped nutmeats
confectioners' sugar
Melt butter in skillet. Add dates, sugar and eggs. Cook over low heat, stirring constantly, until mixture forms a ball (5 to 8 minutes).
Stir in Rice Krispies and nutmeats, mixing well.
Sprinkle a piece of waxed paper lightly with confectioners' sugar. Shape mixture into 2 rolls about 2 inches in diameter. Wrap in waxed paper. Chill.
To serve, cut into thin slices about 1/4 inch in thickness.
YIELD: 5 dozen cookies.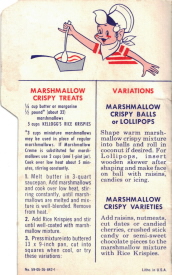 MARSHMALLOW CRISPY TREATS
1/4 cup butter or margarine
1/2 pound* (about 32) marshmallows
5 cups KELLOGG'S RICE KRISPIES
*3 cups miniature marshmallows may be used in place of regular marshmallows. If Marshmallow Creme is substituted for marshmallows use 2 cups (one 1-pint jar). Cook over low heat about 5 minutes, stirring constantly.
Melt butter in 3-quart saucepan. Add marshmallows and cook over low heat, stirring constantly, until marshmallows are melted and mixture is well-blended. Remove from heat.
Add Rice Krispies and stir until well-coated with marshmallow mixture.
Press mixture into buttered 13 x 9-inch pan, cut into squares when cool, or try these variations:
VARIATIONS
MARSHMALLOW CRISPY BALLS OR LOLLIPOPS
Shape warm marshmallow crispy mixture into balls and roll in coconut if desired. For Lollipops, insert wooden skewer after shaping and make face on ball with raisins, candies or icing.
MARSHMALLOW CRISPY VARIETIES
Add raisins, nutmeats, cut dates or candied cherries, crushed stick candy or semi-sweet chocolate pieces to the marshmallow mixture with Rice Krispies.
Here's the other recipe clipping from the back of a cereal box, this would be a more recent clipping but date is unknown: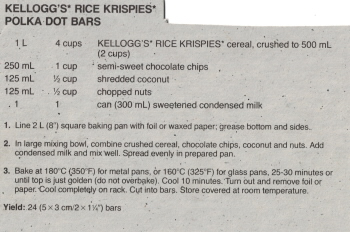 KELLOGG'S RICE KRISPIES
POLKA DOT BARS
| | | |
| --- | --- | --- |
| 1 L | 4 cups | KELLOGG'S RICE KRISPIES cereal, crushed to 500 mL (2 cups) |
| 250 mL | 1 cup | semi-sweet chocolate chips |
| 125 mL | 1/2 cup | shredded coconut |
| 125 mL | 1/2 cup | chopped nuts |
| 1 | 1 | can (300 mL) sweetened condensed milk |
Line 2 L (8″) square baking pan with foil or waxed paper; grease bottom and sides.
In large mixing bowl, combine crushed cereal, chocolate chips, coconut and nuts. Add condensed milk and mix well. Spread evenly in prepared pan.
Bake at 180°C (350°F) for metal pans, or 160°C (325°F) for glass pans, 25-30 minutes or until top is just golden (do not overbake). Cool 10 minutes. Turn out and remove foil or paper. Cool completely on rack. Cut into bars. Store covered at room temperature.
Yield: 24 (5 x 3 cm/2 x 1 1/4″) bars
More Recipes For You To Enjoy: