This recipe comes from a promo recipe sheet by Mazola Oil titled "National Chicken Cooking Contest Winning Recipes". This was found in a large collection, date unknown. Recipe is typed below along with a scanned copy.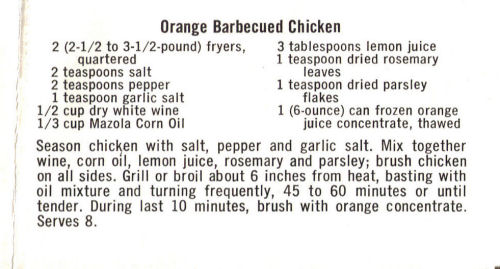 Orange Barbecued Chicken
2 (2-1/2 to 3-1/2-pound) fryers, quartered
2 teaspoons salt
2 teaspoons pepper
1 teaspoon garlic salt
1/2 cup dry white wine
1/3 cup Mazola Corn Oil
3 tablespoons lemon juice
1 teaspoon dried rosemary leaves
1 teaspoon dried parsley flakes
1 (6-ounce) can frozen orange juice concentrate, thawed
Season chicken with salt, pepper and garlic salt. Mix together wine, corn oil, lemon juice, rosemary and parsley; brush chicken on all sides. Grill or broil about 6 inches from heat, basting with oil mixture and turning frequently, 45 to 60 minutes or until tender. During last 10 minutes, brush with orange concentrate. Serves 8.
More Recipes For You To Enjoy: