This is a magazine clipping for a jello fruit salad. Date unknown.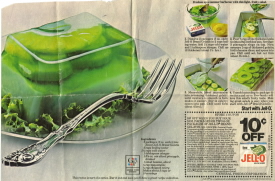 Freshen a summer barbecue with this light, fruity salad.
Ingredients
2 packages (3 oz. each) Lime flavor Jell-O Brand Gelatin
2 cups boiling water
1 1/4 cups cold water
1 tablespoon vinegar
1 8 1/4-oz. can sliced pineapple, drained
1 small banana, sliced
1/4 cup mayonnaise
1/4 cup chopped celery
Makes about 5 cups or 10 servings.
Dissolve 2 packages (3 oz. each) Jell-O Brand Gelatin in 2 cups boiling water. Add 1 1/4 cups cold water and 1 tablespoon vinegar. Chill until thickened (about 1 1/2 hrs.).
Pour 1/2 cup of the thickened gelatin into a 9×5-inch loaf pan. Arrange 3 pineapple rings on top. Now, measure 1 cup of thickened gelatin, fold in banana slices, and spoon into pan. Chill until set, but not firm (about 15 min.).
Meanwhile, blend mayonnaise into remaining thickened gelatin until mixture is smooth (a fork makes it easier). Stir in celery; spoon into pan. Chill until firm (about 4 hrs.).
Unmold according to package directions and serve. Your family will love this salad's fruity taste. Making great salads is easy when you start with Jell-O Brand Gelatin.
More Recipes For You To Enjoy: