This recipe was clipped from a magazine and found in a large collection, date unknown. I've typed it below along with a scanned copy.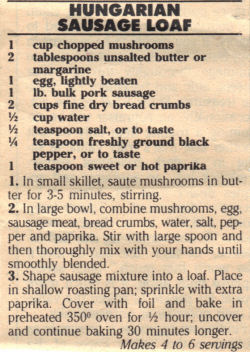 Hungarian Sausage Loaf
1 cup chopped mushrooms
2 tablespoons unsalted butter or margarine
1 egg, lightly beaten
1 lb. bulk pork sausage
2 cups fine dry bread crumbs
1/2 cup water
1/2 teaspoon salt, or to taste
1/4 teaspoon freshly ground black pepper, or to taste
1 teaspoon sweet or hot paprika
In small skillet, saute mushrooms in butter for 3-5 minutes, stirring.
In large bowl, combine mushrooms, egg, sausage meat, bread crumbs, water, salt, pepper and paprika. Stir with large spoon and then thoroughly mix with your hands until smoothly blended.
Shape sausage mixture into a loaf. Place in shallow roasting pan; sprinkle with extra paprika. Cover with foil and bake in preheated 350° oven for 1/2 hour; uncover and continue baking 30 minutes longer.
Makes 4 to 6 servings.
More Recipes For You To Enjoy: