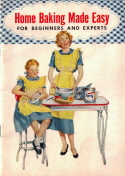 Here is the last section of page 5 of the vintage cookbook: Home Baking Made Easy that was published in 1953 by Lever Brothers Company.
To review all pages in this booklet, simply visit the Home Baking Made Easy: Spry Category and click on a page title to review that section.
You can view a scan of this on this previous page (at bottom): Meaning Of Baking Terms.
HOW TO USE YOUR OVEN
If your oven has a temperature control, set dial at temperature called for in recipe and turn on heat 10-20 minutes before oven is needed.
If you do not have a regulator, keep a portable oven thermometer in the oven as a guide to the correct baking temperature and any needed adjustments of heat.
Check your recipe for approximate baking time required. If your oven is correct, the product should be done within the indicated range. (Other indications of doneness, p. 13).
If any food spills in the oven, wipe it out as soon as the oven is cool.
Place pans as near center of oven as possible. If your oven rack is not large enough to take two layers without touching sides of oven or each other, stagger layers on two racks so that one layer is not over the other.
Your baking sheet should be small enough to allow the heat to circulate completely around it (it should never fill the oven).
More Recipes For You To Enjoy: