This recipe was clipped from a newspaper and looks to be a promo piece for TreeFresh brand Apple Juice Drink. Date unknown. Recipe is typed below along with a scanned copy. Note: the recipe requires 2 cartons TreeFresh Apple Juice Drink (no size amount given), but there's a handwritten note that marks: 64 oz. on this recipe using 2 cartons of TreeFresh Fruit Punch.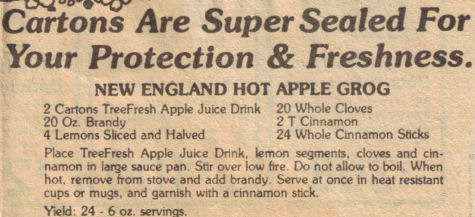 NEW ENGLAND HOT APPLE GROG
2 Cartons TreeFresh Apple Juice Drink
20 Oz. Brandy
4 Lemons Sliced and Halved
20 Whole Cloves
2 T Cinnamon
24 Whole Cinnamon Sticks
Place TreeFresh Apple Juice Drink, lemon segments, cloves and cinnamon in large sauce pan. Stir over low fire. Do not allow to boil. When hot, remove from stove and add brandy. Serve at once in heat resistant cups or mugs, and garnish with a cinnamon stick.
Yield: 24 6-oz. servings.
More Recipes For You To Enjoy: