This recipe was clipped from a newspaper and looks to be a promo piece for TreeFresh brand Fruit Punch. Date unknown. Recipe is typed below along with a scanned copy. Note: the recipe requires 2 cartons TreeFresh Fruit Punch (no size amount given), but there's a handwritten note that marks: 64 oz.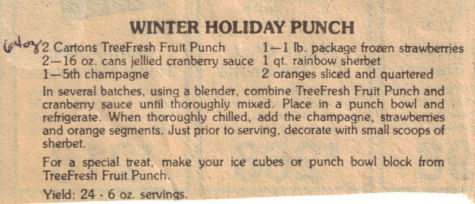 WINTER HOLIDAY PUNCH
2 Cartons TreeFresh Fruit Punch
2 — 16 oz. cans jellied cranberry sauce
1 — 5th champagne
1 — 1lb. package frozen strawberries
1 qt. rainbow sherbet
2 oranges sliced and quartered
In several batches, using a blender, combine TreeFresh Fruit Punch and cranberry sauce until thoroughly mixed. Place in a punch bowl and refrigerate. When thoroughly chilled, add the champagne, strawberries and orange segments. Just prior to serving, decorate with small scoops of sherbet.
For a special treat, make your ice cubes or punch bowl block from TreeFresh Fruit Punch.
Yield: 24 – 6 oz. servings.
More Recipes For You To Enjoy: