This recipe was written on a lined index card and found in a large collection, date unknown. Recipe is typed below along with a scanned copy.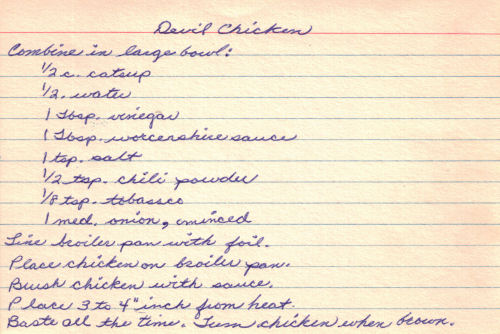 Devil Chicken
Combine in large bowl:
1/2 c. catsup
1/2 . water (RecipeCurio Note: I believe this should read 1/2 cup water)
1 Tbsp. vinegar
1 Tbsp. Worcestershire sauce
1 tsp. salt
1/2 tsp. chili powder
1/8 tsp. Tabasco
1 med. onion, minced
Line broiler pan with foil.
Place chicken on broiler pan.
Brush chicken with sauce.
Place 3 to 4″ inch from heat.
Baste all the time. Turn chicken when brown.
More Recipes For You To Enjoy: