This is a typed sheet that was found in a large collection, date unknown. I believe these are for using a "bridge set" of timbale irons (maybe in the shape of card suits). I've typed the sheet below along with a scanned copy.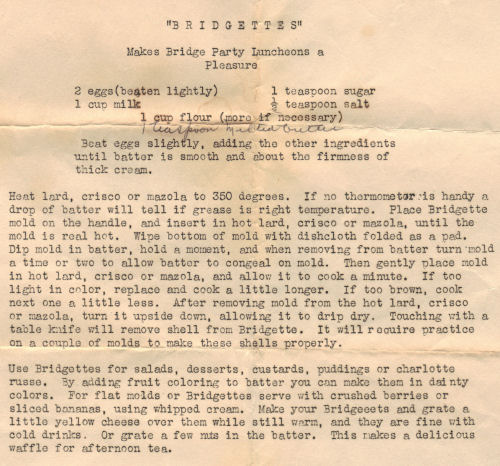 "BRIDGETTES"
Makes Bridge Party Luncheons a Pleasure
2 eggs (beaten lightly)
1 cup milk
1 teaspoon sugar
1/2 teaspoon salt
1 cup flour (more if necessary)
1 teaspoon melted butter
Beat eggs slightly, adding the other ingredients until batter is smooth and about the firmness of thick cream.
Heat lard, crisco or mazola to 350 degrees. If no thermometer is handy, a drop of batter will tell if grease is right temperature.
Place Bridgette mold on the handle, and insert in hot lard, crisco or mazola, until the mold is real hot. Wipe bottom of mold with dishcloth folded as a pad.
Dip mold in batter, hold a moment, and when removing from batter turn mold a time or two to allow batter to congeal on mold. Then gently place mold in hot lard, crisco or mazola, and allow it to cook a minute. If too light in color, replace and cook a little longer. If too brown, cook next one a little less.
After removing mold from the hot lard, crisco or mazola, turn it upside down, allowing it to drip dry. Touching with a table knife will remove shell from Bridgette. It will require practice on a couple of molds to make these shells properly.
Use Bridgettes for salads, desserts, custards, puddings or charlotte russe. By adding fruit coloring to batter you can make them in dainty colors. For flat molds or Bridgettes serve with crushed berries or sliced bananas, using whipped cream. Make your Bridgettes and grate a little yellow cheese over them while still warm, and they are fine with cold drinks. Or grate a few nuts in the batter. This makes a delicious waffle for afternoon tea.
More Recipes For You To Enjoy: