Here's a full page advertisement for Kitchen Craft Flour that was published in The Family Circle magazine (dated 1939). It details how to use timbale irons and the recipe to make the pastry. I've typed out the recipe below along with a scanned copy of the full page ad (click image to view larger size).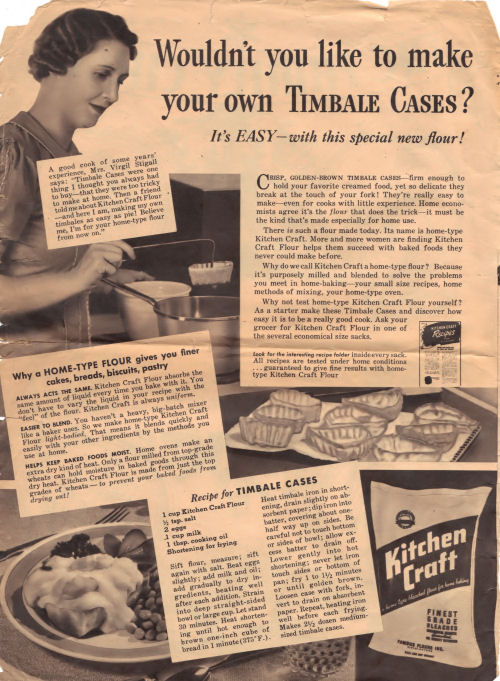 Recipe for TIMBALE CASES
1 cup Kitchen Craft Flour
1/2 tsp. salt
2 eggs
1 cup milk
1 tbsp. cooking oil
Shortening for frying
Sift flour, measure; sift again with salt. Beat eggs slightly; add milk and oil; add gradually to dry ingredients, beating well after each addition. Strain into deep straight-sided bowl or large cup. Let stand 30 minutes. Heat shortening until hot enough to brown one-inch cube of bread in 1 minute (375°F.).
Heat timbale iron in shortening, drain slightly on absorbent paper; dip iron into batter, covering about one-half way up on sides. Be careful not to touch bottom or sides of bowl; allow excess batter to drain off.
Lower gently into hot shortening; never let iron touch sides or bottom of pan; fry 1 to 1 1/2 minutes or until golden brown.
Loosen cake with fork, invert to drain on absorbent paper. Repeat, heating iron well before each frying.
Makes 2 1/2 dozen medium-sized timbale cases.
More Recipes For You To Enjoy: