This promo recipe was clipped from a Crisco label and found in a large collection, date unknown. I've typed it below along with a scanned copy.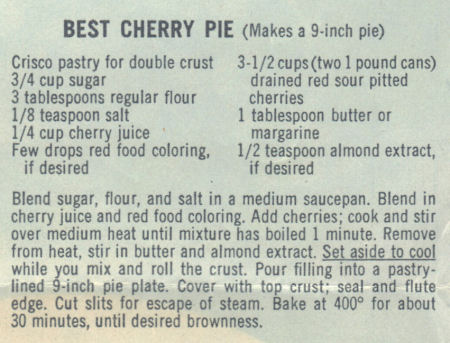 BEST CHERRY PIE
(Makes a 9-inch pie)
Crisco pastry for double crust
3/4 cup sugar
3 tablespoons regular flour
1/8 teaspoon salt
1/4 cup cherry juice
Few drops red food coloring, if desired
3-1/2 cups (two 1 pound cans) drained red sour pitted cherries
1 tablespoon butter or margarine
1/2 teaspoon almond extract, if desired
Blend sugar, flour, and salt in a medium saucepan. Blend in cherry juice and red food coloring. Add cherries; cook and stir over medium heat until mixture has boiled 1 minute. Remove from heat, stir in butter and almond extract. Set aside to cool while you mix and roll the crust. Pour filling into a pastry-lined 9-inch pie plate. Cover with top crust; seal and flute edge. Cut slits for escape of steam. Bake at 400° for about 30 minutes, until desired brownness.
More Recipes For You To Enjoy: