This promo recipe for Crisco was clipped from packaging of some kind and found in a large collection, date unknown. I've typed it below along with a scanned copy.
CRISCO DOUBLE CRUST
(for 9-inch pie)
2 cups sifted regular flour
1 teaspoon salt
3/4 cup Crisco
1/4 cup water
Preheat oven to 425°. Sift flour before measuring; spoon lightly into measuring cup and level without shaking or packing down. Combine flour and salt in a mixing bowl. With a pastry blender or two knives, cut in Crisco until uniform; mixture should be fairly coarse. Sprinkle with water, a tablespoon at a time; toss with a fork. Work dough into a firm ball with your hands.
Divide dough into two parts and press into flat circles with smooth edges. On a lightly floured surface, roll bottom crust to a circle about 1-1/2 inches larger than inverted pie plate.
Gently ease dough into plate. Trim edge even with plate and add filling. Moisten rim of bottom crust with water. Roll top crust the same way and lift onto filled pie. Trim 1/2-inch beyond edge of plate; fold top edge under bottom crust and flute with fingers or fork. Prick or slit top crust to allow for escape of steam. Bake according to time and temperature recommended for filling used.
4 KEYS TO BAKING SUCCESS
I. Use Quality Ingredients Like Crisco
II. Measure Accurately
III. Use Proper Equipment
IV. Use Tested Methods & Recipes
HINTS FOR ROLLING CRISCO CRUST
Flour surface and rolling pin. Start with dough shaped into flat circle with smooth edges. Roll from center out using short, light strokes. Lift rolling pin just before you get to edge. Patch dough if it splits by pressing edges together. Reroll dough if you need to. You can mix pastry, wrap in foil and store in refrigerator overnight and roll next day to save time.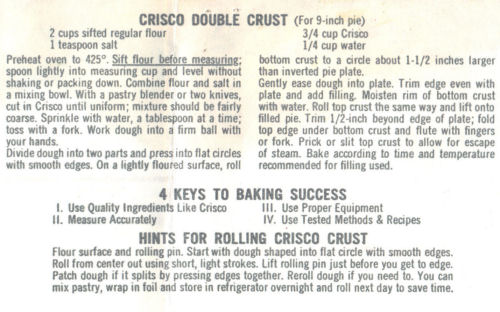 More Recipes For You To Enjoy: