This is a promo recipe clipped from a magazine, likely for McCormick since its spices are a required ingredient, date unknown. Recipe is typed below along with a scanned copy.
Zucchini Pickles
5 pints thinly sliced zucchini (1 1/2-inch diameter)
2 medium onions, peeled and thinly sliced
1/4 cup salt
2 cups white vinegar
2 cups sugar
1 tablespoon McCormick/Schilling Mixed Pickling Spice
1 teaspoon McCormick/Schilling dry Mustard
1 tablespoon McCormick/Schilling Instant Minced Onion
Combine zucchini and onions. Sprinkle with salt. Cover with cold water and let stand 2 hours. Drain, rinse well and drain. Combine remaining ingredients in enameled or stainless steel kettle. Heat to boiling. Cook 5 minutes. Add zucchini and onions. Return to boil and cook 3 minutes. Remove from heat. Ladle into clean, hot, pint canning jars, leaving 1/4 inch head space at tops. Adjust lids following manufacturer's directions. Process in boiling water bath 10 minutes. Store three weeks to allow flavor to develop.
Makes 4 pints.
Before using this recipe, it's important to read this page, the "Safe Canning & Food Preservation" section.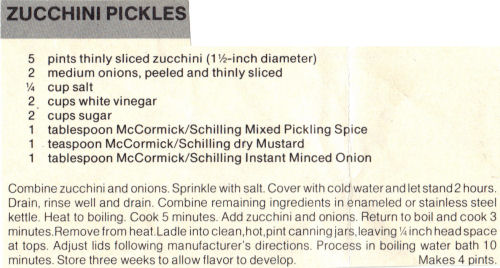 More Recipes For You To Enjoy: