This promo recipe card is from Family Circle and it's likely a magazine pull-out, date unknown. I've typed it below along with a scanned copy.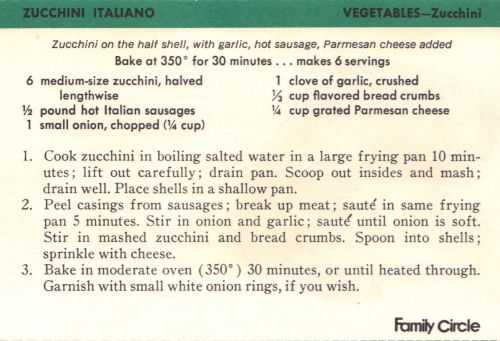 ZUCCHINI ITALIANO
VEGETABLES–Zucchini
Zucchini on the half shell, with garlic, hot sausage, Parmesan cheese added
Bake at 350° for 30 minutes…makes 6 servings
6 medium-size zucchini, halved lengthwise
1/2 pound hot Italian sausages
1 small onion, chopped (1/4 cup)
1 clove of garlic, crushed
1/3 cup flavored bread crumbs
1/4 cup grated Parmesan cheese
Cook zucchini in boiling salted water in a large frying pan 10 minutes; lift out carefully; drain pan. Scoop out insides and mash; drain well. Place shells in a shallow pan.
Peel casings from sausages; break up meat; saute in same frying pan 5 minutes. Stir in onion and garlic; saute until onion is soft. Stir in mashed zucchini and bread crumbs. Spoon into shells; sprinkle with cheese.
Bake in moderate oven (350°) 30 minutes, or until heated through. Garnish with small white onion rings, if you wish.
More Recipes For You To Enjoy: