This recipe comes from a large collection of vintage clippings ranging in dates from the 1940s through the 1980s. Recipe is typed below along with a scanned copy.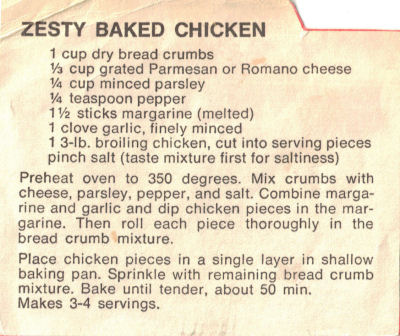 ZESTY BAKED CHICKEN
1 cup dry bread crumbs
1/3 cup grated Parmesan or Romano cheese
1/4 cup minced parsley
1/4 teaspoon pepper
1 1/2 sticks margarine (melted)
1 clove garlic, finely minced
1 3-lb. broiling chicken, cut into serving pieces
pinch salt (taste mixture first for saltiness)
Preheat oven to 350 degrees. Mix crumbs with cheese, parsley, pepper, and salt. Combine margarine and garlic and dip chicken pieces in the margarine. Then roll each piece thoroughly in the bread crumb mixture.
Place chicken pieces in a single layer in shallow baking pan. Sprinkle with remaining bread crumb mixture. Bake until tender, about 50 min.
Makes 3-4 servings.
More Recipes For You To Enjoy: