This recipe was clipped from a newspaper (must be from the Ann Landers column) and the date "5/25/84" written on it. Recipe is typed below along with a scanned copy.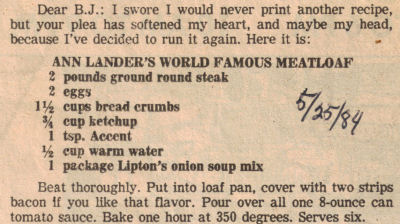 Dear B.J.: I swore I would never print another recipe, but your plea has softened my heart, and maybe my head, because I've decided to run it again. Here it is:
ANN LANDER'S WORLD FAMOUS MEATLOAF
2 pounds ground round steak
2 eggs
1 1/2 cups bread crumbs
3/4 cup ketchup
1 tsp. Accent
1/2 cup warm water
1 package Lipton's onion soup mix
Beat thoroughly. Put into loaf pan, cover with two strips bacon if you like that flavor. Pour over all one 8-ounce can tomato sauce. Bake one hour at 350 degrees. Serves six.
More Recipes For You To Enjoy: