This recipe was written on a lined index card and found in a large collection, date unknown. I've typed it below along with a scanned copy.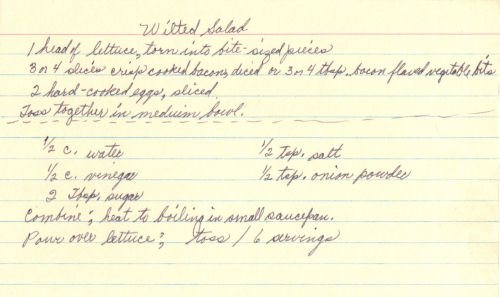 Wilted Salad
1 head of lettuce, torn into bite-sized pieces
3 or 4 slices crisp cooked bacon, diced or 3 or 4 tbsp. bacon flaved vegetable bits
2 hard-cooked eggs, sliced
Toss together in medium bowl.
1/2 c. water
1/2 c. vinegar
2 Tbsp. sugar
1/2 tsp. salt
1/2 tsp. onion powder
Combine; heat to boiling in small saucepan.
Pour over lettuce; toss / 6 servings.
More Recipes For You To Enjoy: