This old recipe for white icing was clipped from a newspaper, date unknown. Recipe is typed below along with a scanned copy.
Mrs. F. J. Dannemiller of Doylestown sent a recipe for White Icing with the comment, "It keeps uncovered several hours without drying out and covered in the refrigerator it keeps for weeks.
Her recipe takes: 1 pound confectioners' sugar, 1 cup vegetable shortening, 4 tablespoons sweet milk, 4 tablespoons sifted flour and 2 teaspoons flavoring (almond is good).
Put all ingredients in electric mixer bowl and beat at high speed 4 or 5 minutes. Add 1 egg white and beat 4 or 5 minutes more.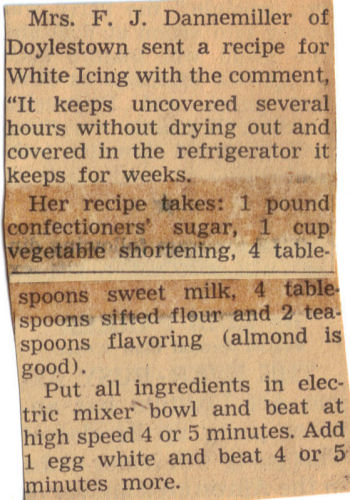 More Recipes For You To Enjoy: