This recipe was written on a lined index card and found in a large collection, date unknown. I've typed it below along with a scanned copy.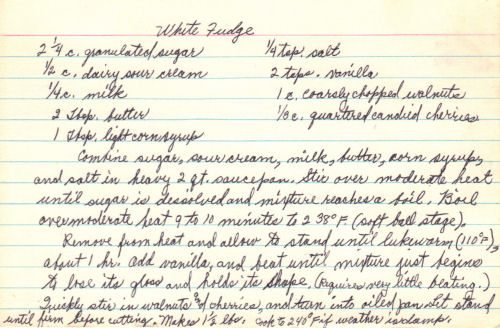 White Fudge
2 1/4 c. granulated sugar
1/2 c. dairy sour cream
1/4 c. milk
2 Tbsp. butter
1 Tbsp. light corn syrup
1/4 tsp. salt
2 tsps. vanilla
1 c. coarsely chopped walnuts
1/3 c. quartered candied cherries
Combine sugar, sour cream, milk, butter, corn syrup, and salt in heavy 2 qt. saucepan. Stir over moderate heat until sugar is dissolved and mixture reaches a boil. Boil over moderate heat 9 to 10 minutes to 238°F. (soft ball stage).
Remove from heat and allow to stand until lukewarm (110°F), about 1 hr. Add vanilla and beat until mixture just begins to lose its gloss and holds its shape. (Requires very little beating.)
Quickly stir in walnuts and cherries, and turn into oiled pan. Let stand until firm before cutting. Makes 1 1/2 lbs.
Cook to 240°F if weather is damp.
More Recipes For You To Enjoy: