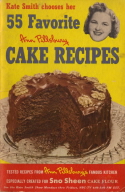 Here is page 6 from the vintage cookbook "Kate Smith chooses her 55 Favorite Ann Pillsbury CAKE RECIPES". This was published in 1952 by Pillsbury Mills, Inc. Kate Smith was a popular singer and radio personality with a career that began in the 1930s.
You can view all the pages in this cookbook by visiting this category: 55 Favorite Cake Recipes: Kate Smith, just click a page title to view that section. There is a scan of the page included below, you can click the image to view a larger copy.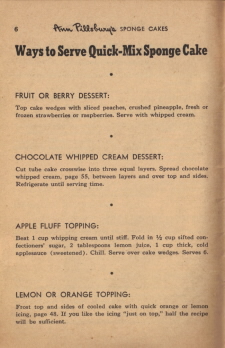 Ways to Serve Quick-Mix Sponge Cake
FRUIT OR BERRY DESSERT:
Top cake wedges with sliced peaches, crushed pineapple, fresh or frozen strawberries or raspberries. Serve with whipped cream.
CHOCOLATE WHIPPED CREAM DESSERT:
Cut tube cake crosswise into three equal layers. Spread chocolate whipped cream, page 55, between layers and over top and sides. Refrigerate until serving time.
APPLE FLUFF TOPPING:
Beat 1 cup whipping cream until stiff. Fold in 1/2 cups sifted confectioners' sugar, 2 tablespoons lemon juice, 1 cup thick, cold applesauce (sweetened). Chill. Serve over cake wedges. Serves 6.
LEMON OR ORANGE TOPPING:
Frost top and sides of cooled cake with quick orange or lemon icing, page 48. If you like the icing "just on top," half the recipe will be sufficient.
More Recipes For You To Enjoy: