This recipe was clipped from an old newspaper and found in a large collection, date unknown. Recipe is typed below along with a scanned copy.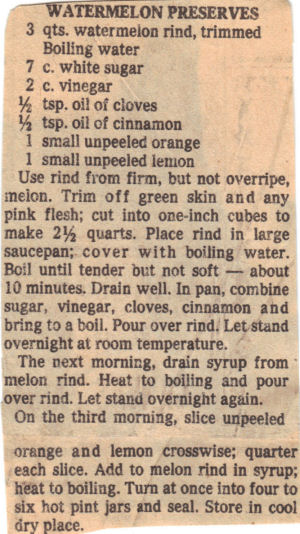 Watermelon Preserves
3 qts. watermelon rind, trimmed
Boiling water
7 c. white sugar
2 c. vinegar
1/2 tsp. oil of cloves
1/2 tsp. oil of cinnamon
1 small unpeeled orange
1 small unpeeled lemon
Use rind from firm, but not overripe, melon. Trim off green skin and any pink flesh; cut into one-inch cubes to make 2 1/2 quarts. Place rind in large saucepan; cover with boiling water. Boil until tender but not soft — about 10 minutes. Drain well. In pan, combine sugar, vinegar, cloves, cinnamon and bring to a boil. Pour over rind. Let stand overnight at room temperature.
The next morning, drain syrup from melon rind. Heat to boiling and pour over rind. Let stand overnight again.
On the third morning, slice unpeeled orange and lemon crosswise; quarter each slice. Add to melon rind in syrup; heat to boiling. Turn at once into four to six hot pint jars and seal. Store in cool dry place.
Before using this recipe, it's important to read this page, the "Safe Canning & Food Preservation" section.
More Recipes For You To Enjoy: