This recipe comes from the booklet:
Holiday Sunshine Recipes
Volume 1
On the back cover, the following information:
The East Ohio Gas Company
Part of the Consolidated Natural Gas System
"The Sunshine People"
No date
Recipe follows image below: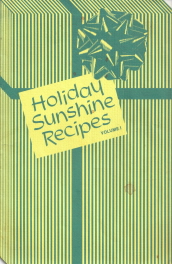 Wassail Bowl
3 medium red apples
2 Tablespoons butter
2 Tablespoons brown sugar
4 cups apple cider
1/2 teaspoon cinnamon
1/4 teaspoon nutmeg
4 cups sherry
1/4 cup sugar
4 thin lemon slices
Core and slice apples crosswise into 1-inch thick slices. Melt butter in large skillet, add apple slices and sprinkle with brown sugar. Saute. Set aside. Combine cider, cinnamon, nutmeg, sherry, sugar and lemon slices in large saucepan. Simmer, stirring until sugar dissolves. Cover tightly and let stand over a keep warm flame about 3 minutes, do not boil. Remove lemon slices. Pour hot into punch bowl. Float apple slices on top of punch. Serves 16.
More Recipes For You To Enjoy: