This promo recipe from Dover Farms Whipped Topping was printed on the back of a label (container lid insert) and was found in a large collection, date unknown. I've typed it below along with a scanned copy.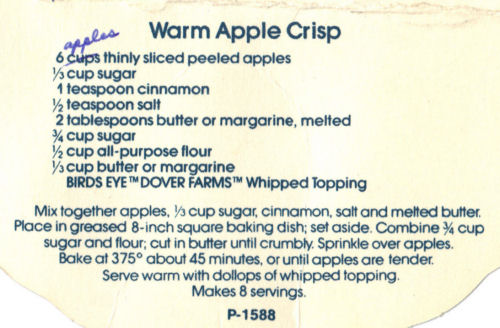 Warm Apple Crisp
6 cups thinly sliced peeled apples (RecipeCurio note: the word "cups" is crossed out with "apples" written in)
1/3 cup sugar
1 teaspoon cinnamon
1/2 teaspoon salt
2 tablespoons butter or margarine, melted
3/4 cup sugar
1/2 cup all-purpose flour
1/3 cup butter or margarine
BIRDS EYE DOVER FARMS Whipped Topping
Mix together apples, 1/3 cup sugar, cinnamon, salt and melted butter. Place in greased 8-inch square baking dish; set aside. Combine 3/4 cup sugar and flour; cut in butter until crumbly. Sprinkle over apples. Bake at 375° about 45 minutes, or until apples are tender. Serve warm with dollops of whipped topping. Makes 8 servings.
More Recipes For You To Enjoy: