Here's a fun vintage recipe sheet from Betty Crocker that gives all kinds of ideas for making holiday cookies (includes a few recipes too). Date unknown. The entire sheet is typed out below along with scanned copies of both sides.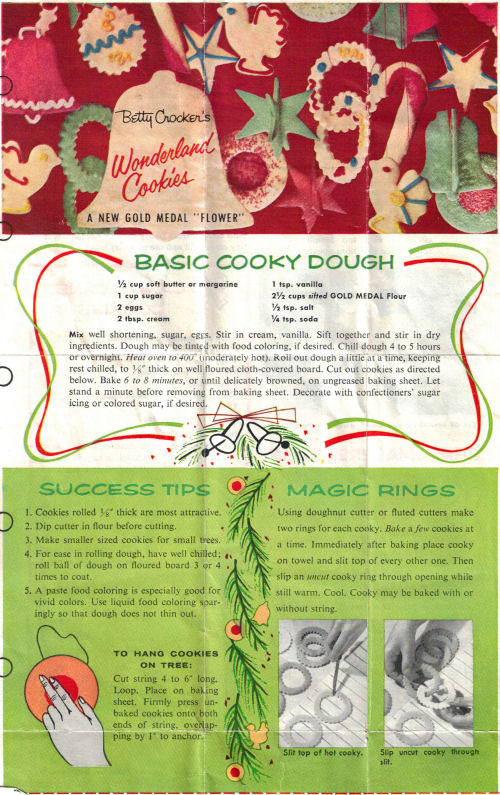 Betty Crocker's Wonderland Cookies
A NEW GOLD MEDAL "FLOWER"
BASIC COOKY DOUGH
1/2 cup soft butter or margarine
1 cup sugar
2 eggs
2 tbsp. cream
1 tsp. vanilla
2 1/2 cups sifted GOLD MEDAL Flour
1/2 tsp. salt
1/4 tsp. soda
Mix well shortening, sugar, eggs. Stir in cream, vanilla. Sift together and stir in dry ingredients. Dough may be tinted with food coloring, if desired. Chill dough 4 to 5 hours or overnight. Heat oven to 400° (moderately hot). Roll out dough a little at a time, keeping rest chilled, to 1/8″ thick on well floured cloth-covered board. Cut out cookies as directed below. Bake 6 to 8 minutes, or until delicately browned, on ungreased baking sheet. Let stand a minute before removing from baking sheet. Decorate with confectioners' sugar icing or colored sugar, if desired.
SUCCESS TIPS
Cookies rolled 1/8″ thick are most attractive.
Dip cutter in flour before cutting.
Make smaller sized cookies for small trees.
For ease in rolling dough, have well chilled; roll ball of dough on floured board 3 or 4 times to coat.
A paste food coloring is especially good for vivid colors. Use liquid food coloring sparingly so that dough does not thin out.
MAGIC RINGS
Using doughnut cutter or fluted cutters make two rings for each cooky. Bake a few cookies at a time. Immediately after baking place cooky on towel and slit top of every other one. Then slip an uncut cooky ring through opening while still warm. Cool. Cooky may be baked with or without string.
TO HANG COOKIES ON TREE:
Cut string 4 to 6″ long. Loop. Place on baking sheet. Firmly press unbaked cookies onto both ends of string, overlapping by 1″ to anchor.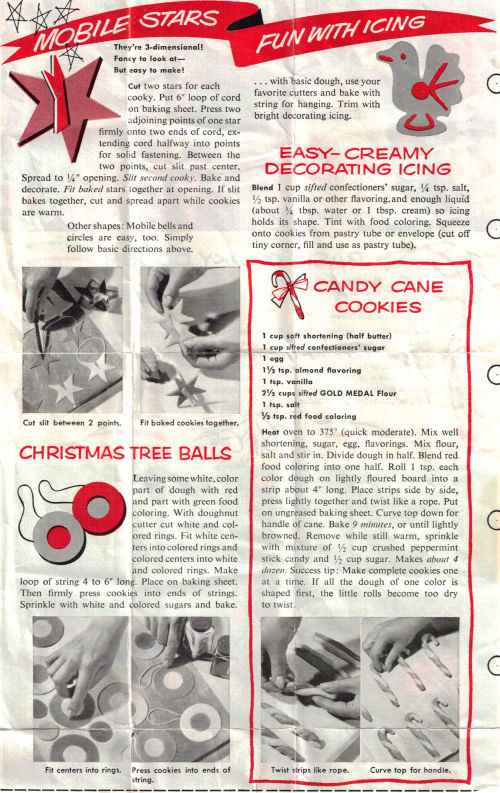 MOBILE STARS
They're 3-dimensional! Fancy to look at–But easy to make!
Cut two stars for each cooky. Put 6″ loop of cord on baking sheet. Press two adjoining points of one star firmly onto two ends of cord, extending cord halfway into points for solid fastening. Between the two points, cut slit past center. Spread to 1/4″ opening. Slit second cooky. Bake and decorate. Fit baked stars together at opening. If slit bakes together, cut and spread apart while cookies are warm.
Other shapes: Mobile bells and circles are easy, too. Simply follow basic directions above.
CHRISTMAS TREE BALLS
Leaving some white, color part of dough with red and part with green food coloring. With doughnut cutter cut white and colored rings. Fit white centers into colored rings and colored centers into white and colored rings. Make loop of string 4 to 6″ long. Place on baking sheet. Then firmly press cookies into ends of strings. Sprinkle with white and colored sugars and bake.
FUN WITH ICING
…with basic dough, use your favorite cutters and bake with string for hanging. Trim with bright decorating icing.
EASY-CREAMY DECORATING ICING
Blend 1 cup sifted confectioners' sugar, 1/4 tsp. salt, 1/2 tsp. vanilla or other flavoring, and enough liquid (about 3/4 tbsp. water or 1 tbsp. cream) so icing holds its shape. Tint with food coloring. Squeeze onto cookies from pastry tube or envelope (cut off tiny corner, fill and use as pastry tube).
CANDY CANE COOKIES
1 cup soft shortening (half butter)
1 cup sifted confectioners' sugar
1 egg
1 1/2 tsp. almond flavoring
1 tsp. vanilla
2 1/2 cups sifted GOLD MEDAL Flour
1 tsp. salt
1/2 tsp. red food coloring
Heat oven to 375° (quick moderate). Mix well shortening, sugar, egg, flavorings. Mix flour, salt and stir in. Divide dough in half. Blend red food coloring into one half. Roll 1 tsp. each color dough on lightly floured board into a strip about 4″ long. Place strips side by side, press lightly together and twist like a rope. Put on ungreased baking sheet. Curve top down for handle of cane. Bake 9 minutes, or until lightly browned. Remove while still warm, sprinkle with mixture of 1/2 cup crushed peppermint stick candy and 1/2 cup sugar. Makes about 4 dozen. Success tip: Make complete cookies one at a time. If all the dough of one color is shaped first, the little rolls become too dry to twist.
More Recipes For You To Enjoy: