This vintage recipe card from Family Circle was published in 1965 and looks to be a magazine pull-out. Recipe is typed below along with scanned copies of both front and back.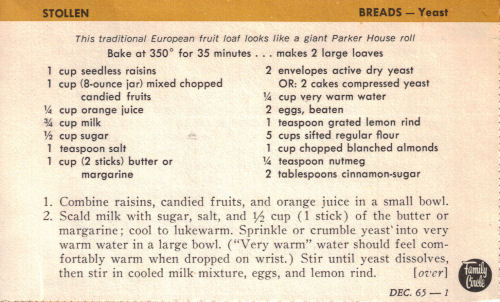 STOLLEN
BREADS — Yeast
This traditional European fruit loaf looks like a giant Parker House roll
Bake at 350° for 35 minutes…makes 2 large loaves
1 cup seedless raisins
1 cup (8-ounce jar) mixed chopped candied fruits
1/4 cup orange juice
3/4 cup milk
1/2 cup sugar
1 teaspoon salt
1 cup (2 sticks) butter or margarine
2 envelopes active dry yeast
OR: 2 cakes compressed yeast
1/4 cup very warm water
2 eggs, beaten
1 teaspoon grated lemon rind
5 cups sifted regular flour
1 cup chopped blanched almonds
1/4 teaspoon nutmeg
2 tablespoons cinnamon-sugar
Combine raisins, candied fruits, and orange juice in a small bowl.
Scald milk with sugar, salt, and 1/2 cup (1 stick) of the butter or margarine; cool to lukewarm. Sprinkle or crumble yeast into very warm water in a large bowl. ("Very warm" water should feel comfortably warm when dropped on wrist.) Stir until yeast dissolves, then stir in cooled milk mixture, eggs, and lemon rind.
Beat in 2 cups of the flour until smooth; stir in fruit mixture, almonds, and nutmeg, then beat in just enough of remaining 3 cups flour to make a stiff dough. Knead until smooth and elastic on a lightly floured pastry cloth or board, adding only enough flour to keep dough from sticking.
Place in a greased large bowl; cover with a clean towel. Let rise in a warm place, away from draft, 2 hours, or until double in bulk.
Punch dough down; knead a few times; divide in half. Roll each into an oval, 15×9; place on a greased large cooky sheet. Melt remaining 1/2 cup (1 stick) butter or margarine in a small saucepan; brush part over each oval; sprinkle with cinnamon-sugar; fold in half lengthwise. Cover; let rise again 1 hour, or until double in bulk. Brush again with part of the remaining melted butter or margarine.
Bake in moderate oven (350°) 35 minutes, or until golden and loaves give a hollow sound when tapped. While hot, brush with remaining melted butter or margarine; cool on wire racks.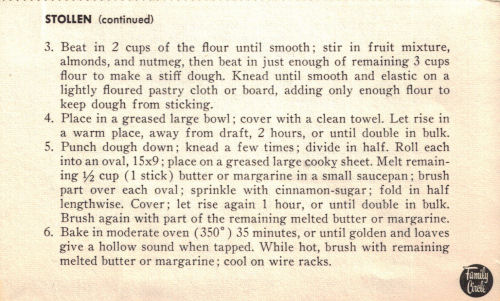 More Recipes For You To Enjoy: