This recipe was clipped from a newspaper and found in a large collection, date unknown. I've typed it below along with a scanned copy.
Canning Spiced Peaches (also works for pears and crab apples)
With so many August fruits in their prime, alert homemakers are looking for easy-but-good ways to preserve their summer goodness for winter menus.
Mrs. Henry Jones says she has a good recipe for spiced peaches. She likes to can small fruit without peeling and recommends this method:
5 cups brown sugar
2 cups vinegar
2 cinnamon sticks
2 tablespoons whole cloves
4 quarts peaches (pears or crab apples are good this way, too)
Cook sugar, vinegar, and spices for 20 minutes. Drop in fruit 2 at a time and cook until tender but not soft.
Pack in hot sterilized jars. Add sirup to 1/2 inch of the top and seal.
This recipe makes 6 pints of spiced fruit.
Before using this recipe, it's important to read this page, the "Safe Canning & Food Preservation" section.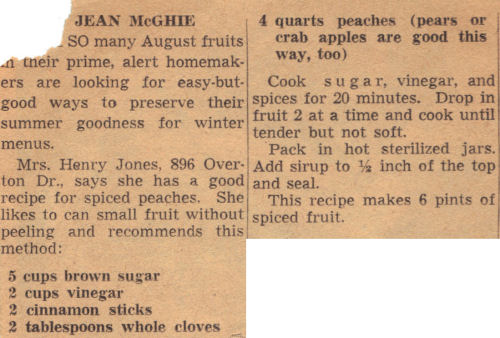 More Recipes For You To Enjoy: