This vintage recipe was published on the back of a calendar page dated 1942, it was found in a large collection. I've typed it below along with a scanned copy.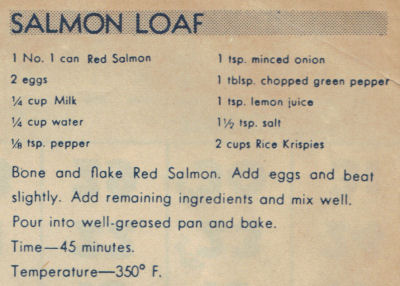 SALMON LOAF
1 No. 1 can Red Salmon
2 eggs
1/4 cup Milk
1/4 cup water
1/8 tsp. pepper
1 tsp. minced onion
1 tblsp. chopped green pepper
1 tsp. lemon juice
1 1/2 tsp. salt
2 cups Rice Krispies
Bone and flake Red Salmon. Add eggs and beat slightly. Add remaining ingredients and mix well. Pour into well-greased pan and bake.
Time–45 minutes.
Temperature–350° F.
More Recipes For You To Enjoy: