This recipe advertisement for Wesson Oil was published in a magazine, date: 1948. Two recipes were featured: Kabobs Paprika and Special Green Olive Dressing for shrimp and grapefruit salad. The page is a bit too large for my scanner but I was able to get most of it. You can click to view a larger image, both recipes are typed below.
New dinner trick! Kabobs Paprika
KABOBS PAPRIKA
A delicious way to serve economical cuts of meat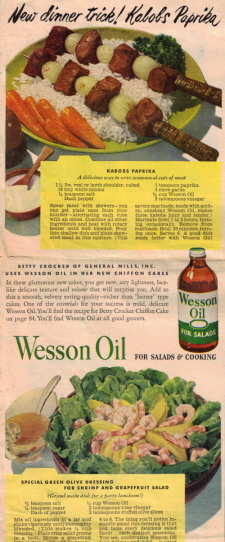 1 1/2 lbs. veal or lamb shoulder, cubed
18 tiny white onions
1/2 teaspoon salt
Dash pepper
1 teaspoon paprika
1 clove garlic
1/3 cup Wesson Oil
2 tablespoons vinegar
Spear meat with skewers–you can get plain ones from your butcher–alternating each cube with an onion. Combine all other ingredients and beat with rotary beater until well blended. Pour into shallow dish and place skewered meat in this mixture. (This savory marinade, made with golden, sunshiny Wesson Oil, makes these kabobs juicy and tender.) Marinate from 1 to 2 hours, turning occasionally. Remove from marinade. Broil 20 minutes, turning once. Serves 6. A good dish made better with Wesson Oil!
Wesson Oil FOR SALADS & COOKING
SPECIAL GREEN OLIVE DRESSING
FOR SHRIMP AND GRAPEFRUIT SALAD
(Grand main dish for a party luncheon!)
1/2 teaspoon salt
1/4 teaspoon sugar
Dash of pepper
1/3 cup Wesson Oil
2 tablespoons wine vinegar
2 tablespoons stuffed olive slices
Mix all ingredients in a jar and shake vigorously until thoroughly blended. (This makes 1/2 cup dressing.) Place crisp salad greens in a bowl. Divide a grapefruit into sections and add to greens, with one 5-ounce can of shrimp (or 1 lb. of fresh shrimp, cooked, peeled, cleaned). Pour dressing over salad and toss gently. Serves 4 to 6. The thing you'll notice instantly about this dressing is that you taste every delicious salad flavor . . . each distinct seasoning. You see, unobtrusive Wesson Oil is so delicate and light . . . it never drowns flavors under a heavy, oily taste. Try Wesson Oil. You'll find it's the perfect salad oil for every type of salad.
More Recipes For You To Enjoy: