This vintage promo recipe from The Quaker Oats Company was printed on the back of a coupon and found in a large collection, date unknown. I've typed the recipe out below along with a scanned copy (I included the coupon offer which was for two different Kodak cameras).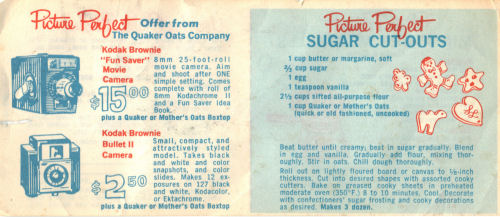 Picture Perfect
SUGAR CUT-OUTS
1 cup butter or margarine, soft
2/3 cup sugar
1 egg
1 teaspoon vanilla
2 1/2 cups sifted all-purpose flour
1 cup Quaker or Mother's Oats (quick or old fashioned, uncooked)
Beat butter until creamy; beat in sugar gradually. Blend in egg and vanilla. Gradually add flour, mixing thoroughly. Stir in oats. Chill dough thoroughly.
Roll out on lightly floured board or canvas to 1/8-inch thickness. Cut into desired shapes with assorted cooky cutters. Bake on greased cooky sheets in preheated moderate oven (350°F.) 8 to 10 minutes. Cool. Decorate with confectioners' sugar frosting and cooky decorations as desired. Makes 3 dozen.
More Recipes For You To Enjoy: