Here's an old recipe clipped from a newspaper and found in a large collection, date unknown. The recipe has handwritten notes that I've included in brackets (with the font italicized)…you'll find it typed below along with a scanned copy.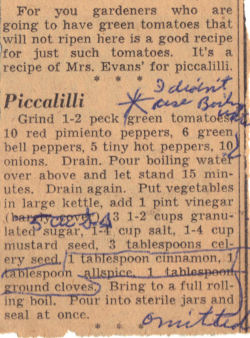 For you gardeners who are going to have green tomatoes that will not ripen here is a good recipe for just such tomatoes. It's a recipe of Mrs. Evans' for piccalilli.
Piccalilli
Grind 1-2 peck green tomatoes, 10 red pimiento peppers, 6 green bell peppers, 5 tiny hot peppers, 10 onions. Drain. Pour boiling water (I didn't use boiling water) over above and let stand 15 minutes. Drain again. Put vegetables in large kettle, add 1 pint vinegar (5 cups) (barely cover), 3 1-2 cups granulated sugar, 1-4 cup salt, 1-4 cup mustard seed, 3 tablespoons celery seed, *1 tablespoon cinnamon, 1 tablespoon allspice, 1 tablespoon ground cloves* (*omitted*). Bring to a full rolling boil. Pour into sterile jars and seal at once.
Please read the Safe Canning & Food Preservation section if planning on canning this recipe.
More Recipes For You To Enjoy: