This recipe was clipped from a newspaper and found in a large collection, date unknown. I've typed it below along with a scanned copy.
A READER CALLED asking for a recipe to make apple conserve, which calls for red hot candies and raisins. I found this recipe and have not used it, so can only say that it came from The Joy of Cooking, and it sounds good.
Wash, stem and core 3 pounds of ripe apples, then run them through the coarse blade of the food chopper. This should make 4 cups of chopped apples. Place in large kettle, add 5 to 5 1/2 cups of sugar, 1/3 cup of vinegar, 1/2 cup of raisins, 1/2 cup of chopped walnut meats, 1/2 cup of cinnamon candies, 1 teaspoon of grated lemon peel, 2 tablespoons of lemon juice. Bring all ingredients to a rolling boil then add 1/2 bottle of liquid pectin and stir for one minute of hard boiling. Stir and skim conserve for five minutes to prevent fruit from floating. Ladle the apple conserve into hot, sterilized jars and seal. This recipe should make 10 half-pint jars of conserve.
Please read the Safe Canning & Food Preservation section if planning on canning this recipe.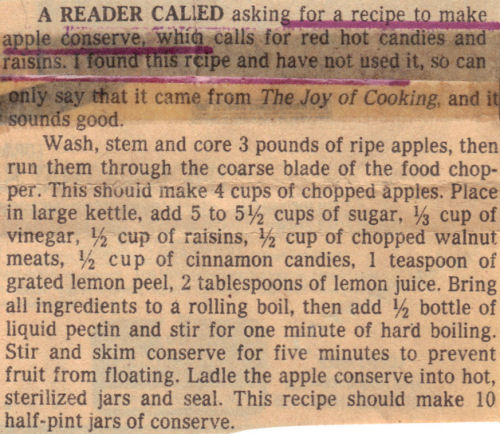 More Recipes For You To Enjoy: